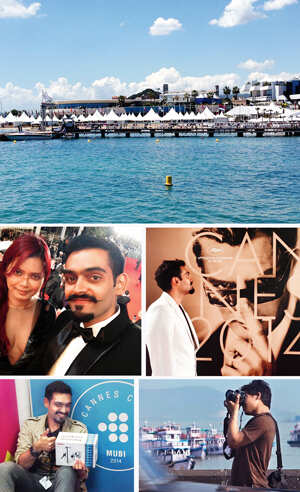 Sat May 24 2014 18:30:00 GMT+0000 (Coordinated Universal Time)
City boy Avi Vasu connects with Mirror straight from Cannes.
He even won the Mubi 'Your Day at Cannes' 15-second video making contest at the venue. In Lost & Found, Vasu (who moved to Mumbai last year) essays the story of a young boy on a journey of self-realisation My film was screened at the mini theatre on Tuesday, 13.45 local time. I was nervous, to say the least, as it was my first international premiere. But the response was really great. The theatre was full of short filmmakers, buyers and producers. One of the viewers commented: "It's a pleasant change to see a story-driven short film from the character-driven ones I've seen so far." I am a content man. I GOT LUCKY What makes me even happier is that I got the opportunity of watching some great short films like Ouroboros by Henry Boffin from Australia, Dot by Garrett Kennell from USA, and True- LoveStory an animation short by Gitanjali Rao. The most exciting part about the Short Film Corner was the variety of countries represented. I met filmmakers from Australia, Germany, Italy, Japan, France, Denmark, Czech Republic and USA. Apart from that I also caught premiere shows of several international feature films. The most interesting and moving one for me was The Search by Michel Hazanavicius (the Oscar-winning director of the silent black and- white comedy The Artist). The Search is a war drama based on the conflict between Russia and Chechnya. It is brilliant how effortless he is with both genres — comedy and drama. I also enjoyed watching La Meraviglie by Alice Rohrwacher, The Rover by David Michôd, and The Tale of Princess Kaguya, a Japanese anime by Isao Takahata. US AND THEM The foreign short films are different from their Indian counterparts. They have greater budgets and hence bigger production value and more support from their governments. But I think we're slowly getting there and I am glad that I am a part of this change. In fact, one of the coolest moments for me at the festival was at the premiere of Kanu Behl's Titli. After the film, the entire hall gave the cast and crew a standing ovation. It was a very proud moment for India. I'm glad I was witness to it. Bollywood, of course, is well-known here. Most people I speak to have been telling me that they initially associated Hindi films with Devdas, which played here in 2002 and caused quite a stir, but are now intrigued with the change of scene portrayed by films like Ritesh Batra's The Lunchbox and Anurag Kashyap's Ugly from last year and Titli this year. They acknowledge that non-commercial Indian cinema is making its mark in the international circuits. GLAMOUR GAMES The first thing one notices about Cannes is the extravagance: the stars, the clothes, the cars, the yachts. But it's amazing how it almost becomes routine to see so many film celebrities all around. At one moment the stars are getting hounded by the paparazzi on the red carpet, and the next they're sipping coffee at a table next to yours. So far its been surreal — a rollercoaster ride of meeting people, four red carpet screenings and after parties. I'm severely star-struck! I have seen so many greats like Tommy Lee Jones, Julianne Moore, Adrien Brody, Guy Pearce, Robert Pattinson, Monica Bellucci and directors like Alice Rohrwacher and Sophia Coppola. I also watched the 20th anniversary screening of Pulp Fiction (it won the Cannes Palme d'Or in 1994 here) with Quentin Tarantino, Uma Thurman and John Travolta in the audience. I attended four red carpets but David Michôd's The Rover will remain the most memorable. The cast is usually the last to enter the theatre and we were delayed getting to the venue. As luck would have it, they accepted our invites and ushered us in right after the cast. We had balcony seats like all the other red carpets, but since we were late the balcony was already full. So we were asked to wait outside the hall, where the entire cast was waiting next to us, including Robert Pattinson and Guy Pearce, who turned to us and said: "Looking good guys". I was so star struck I could barely respond. When they entered the hall, the crowd was cheering loudly and we were ushered in with them and made to sit right next to them — the best seats in the house. LOOKING AHEAD I have a few international coproduction offers in the pipeline for my next film, which will be a feature. I can't say much till it's finalised. Just that it's a film with parallel stories and multiple leads.